BY Jason Breidert
Alarm goes off at 5am, truck is packed and the plan is to spend the last 3 days of Archery Season in our Unit with my son right back where we spent opening day. Excuses for not getting up pop up in my mind. It's gonna be COLD, like in the high teens. I'm tired and my body is beaten from hunting every spare minute. "Can't shoot an elk from bed" says my brain. I obey and get out of bed.
Half way to the spot and he texts me; forgot his bow. Lesson- Expect things to not go as planned. We finally head off from the trucks a bit later than we wanted; about 8am. Finally, back in the woods.
9:30 or so, making our way up the mountain side to sweet spot in a drainage we found earlier in the season, we get that lone bugle down and across the drainage from us at about 400yds or so. A couple of cow calls with a lackluster bugle and another response. Game Time.
We continue a bit higher up the mountain and towards a pinch point that we found earlier in the season. Let the games begin! Plan was to play out a breeding sequence and bring in some food on the hoof, finally killing an elk with a bow this year, number four since we got in the game.
I start with what I think are sexy cow calls as I head up to a spot where I will not be seen when they come in, my son wandered around laying down some stray cow sounds. I found a nice little bench about 15 yards wide and 10 yards deep, maybe 30 yards above him. No bugling from me, just a bunch of raking and moaning bull sounds, doing my best Paul Medel impression, running and stomping around like some cows, busting branches, the whole 9. This is a freaking workout at 10,500 ft. Suddenly some DEEP chuckles from 150yd I'm guessing. Now we have 2 bulls in the neighborhood, one only chuckles and it's always really deep! So cool to hear. He got named The Chuckler. I continue raking, stomping, breaking branches and moaning like a real excited bull. We are now about 10 minutes into the sequence. I hear my son getting a bit farther away than I thought he would, so I decided to haul butt down to him, about 40 yards and have the "set up and shut up" huddle. They are getting close.
He finds a nice spot to set up, 2 nice shooting lanes and good cover. (if you have more than 2 shooting lanes, you are set up in the wrong spot- Dirk Durham) I sprint back up to where I was and just about died on arrival. A couple of winded regathering/assembly mews (use sounds that demand action- Paul Medel @elknutoutdoors / Talk to him like his Mamma did- Chris Roe @RoeHuntingResources ) and a bull moan is all I could muster. Deeeeep breaths. No more than 60 seconds had passed and I hear cow calling back where he is set up. What the heck! Why is he calling? I whisper yell "What are you doing calling?" to which I hear the response, "I just shot him".
Whaaaat??? It was about 10:30. Did it finally come together? Haul butt back down and find out that a small 5×5 sauntered up the game trail towards my location, walking by my son at 25 yds, broadside. We talk about the shot, do we have 2 holes? Joe Giglia @elkbros ringing in my ears. We still have The Chuckler out there and he is headed our way. We quickly switch roles and my son heads up to where I was and continues the breeding sequence. I assume the shooter role and post up in the same spot. Deep chuckles continue to advance towards me. Are we getting ready for a 2fer I wondered? I can hear crunching leaves at this point and some more chuckles, never a bugle from this chap. I'm guessing he was around 70 yards at this point, in the trees on the other side of a small meadow. A minute or so later, the wind switched and I feel that tickle on the back of my neck. Jig was up and we never heard another peep from The Chuckler. I send some cow calls up the hill to let @dryflysavage know to come on down.
Emotions pour out. Holy crap, it finally did come together, with a chance at a 2fer. We sit and relish in the moment for an hour or so, eating some food to fuel the machine.
We start tracking, but don't see any blood at first. Luckily we were able to follow hoof prints and found the trail. Got 2 hole confirmation shortly after. If you haven't found @elkbros (elkbros.com) You need to! Next we find the arrow, about 6" of the back of the arrow missing. At this point, blood trail pretty much disappeared. We continued walking back and forth, slowly working our way down the drainage. Running out of blood always feels scary and can take the wind out of your sails; keep at it and get them thoughts out of your head!! 30 minutes or so pass and I hear the magic words about 50 yds away from me. "Found Him!" I cannot quite find the words to express what I felt. 4 years of grinding in the nasty, steep beetle killed forests of NW Colorado had finally come to fruition. My dream of calling a bull in for my son was realized. I'm sure this is actually more fulfilling for me than shooting it myself. Eternally grateful for this experience!
It took us 3 trips to get the beast to the truck, packing meat from 4-11pm. What an incredibly brutal day, but I wouldn't change a thing! Back home at 12:30 am. Epic.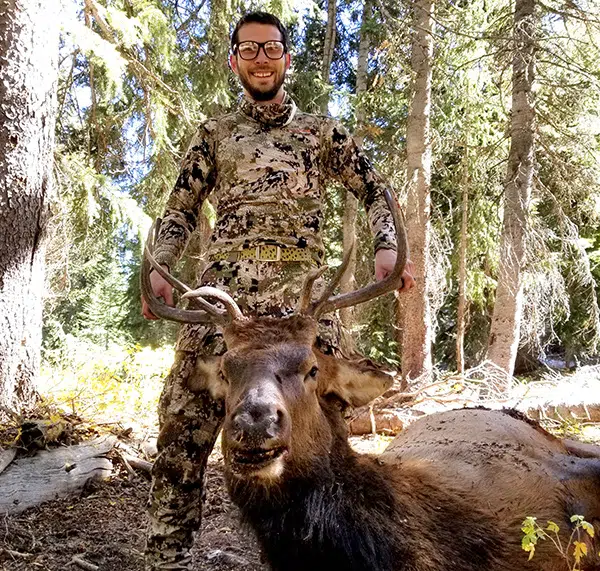 We were brand new archery big game hunters 4 years ago. I have shot does the past 2 years, but never an elk. My son has put in a ton of work, miles, practice, e-scouting over the last 4 and has become a helluva hunter. I am so proud to be his father. We have made many mistakes, bad decisions and have fallen victim to the moment many times. We have blown animals out. We wounded one and know how heartbreaking that is. All of these ups and downs culminated in success…finally.
Lessons learned that might help others "fatten the learning curve"
Slow down everything! Your steps, your motions, your thoughts, emotions, even our breath.
When you get a response to a call, stop and think about what is being said/going on. Make a plan, execute and learn.
Learn, learn, learn from everyone, they all have something valuable. There are so many folks with eons of experience willing to share in the hunting community. Podcasts are gold. A few of my favs are @Blue Collar Elk Hunting @elkbros with Joe, Chav, Gilbert and The Venezuelan Mafia- incredible brotherhood of hunters, teachers, humans. The Rich Outdoors @therichoutdoors Cody Rich is a incredible host, entrepreneur and hunter. The Western Huntsman Jim Huntsman has a sense of humor that will split your sides, world class hunters as guests and he a very good interviewer, asking the same questions many of us are thinking of. Roe Hunting Resources @roehuntingresources Chris Roe is a biologist and knows elk better than they know themselves. Chris has tons of experience and knowledge that he passionately shares to get us to be better hunters. Paul Medel The Elk Nut @elknutoutdoors is just that, a certified elk nut. Paul has such a passion for elk, you will get addicted just listening to him. Decades of experience watching and interacting with elk conveyed with passion and excitement. It is impossible to listen to Paul and not get jacked up on elk. Paul, Thank You for taking the time to actually chat with me on the phone about 2 years ago. That 10 minutes or so you spent with me on the phone has had an enormous positive impact on my learning. I appreciate it big time! All of these guys are excellent hunters and have such great guests that all share their knowledge and experience.
Shoot your bow at camp/the truck, wherever, but shoot that puppy before and after stomping through the woods. Inspect your gear for damage. Last year I had a set screw on a cam come loose and fall out. Would never have know till it was too late. Luckily it was on the last night of that hunt and it didn't mess anything up, but would have if we had another day to hunt. I feel like I can go on forever. Little nuggets from these guys and many other have definitely made a huge impact in my hunting path. I am eternally grateful to them all! It's a weird thing to be in the middle of a scenario and have their words ringing in my head. Definitely made the difference between taking my bow on wilderness hikes vs interacting with elk and finally killing one! Much Love to All Y'all!