Story & photos by PJ Hennigan.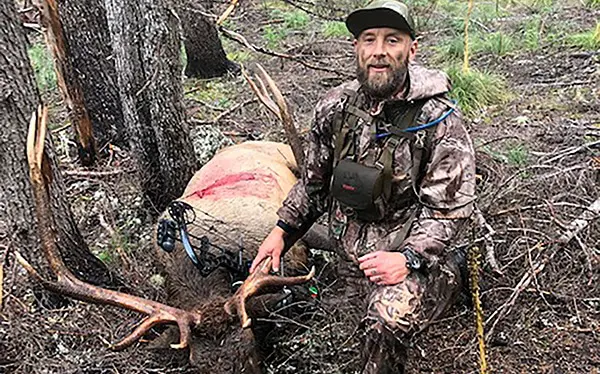 My father always told me "it's the most intense way to hook up to the universe". I never understood what he meant until my first archery deer/elk season in here in Oregon.
My first exposure to hunting came at a young age. My father and I would squirrel hunt with .22's. However, before things could ever progress to the big game my father and I became distant due to the reverberations of divorce.
As the years passed my father continued to hunt while I ventured down paths undesirable and not worth speaking about here.
In my thirties, I moved to Los Angeles with dreams of becoming a film and television writer. Eventually, I achieved my goal but was disappointed to find it was far less fulfilling than I ever imagined. For several years I toiled about chasing writing jobs and tried to find something that fulfilled me.
To make ends meet between writing gigs, I was working as a personal trainer. One of my clients had a vacation house up in Tahoe. This client owned a pair of Spinone Italianos, a massive hunting dog. Far too big to go on a plane. And so I excepted the job of driving them up to Tahoe.
On the way out of L.A., about twenty miles after the Tejon pass, I noticed a sign for the Tule Elk Reserve. I'd only seen elk one other time during a trip to Estes Park, Colorado. I remembered how massive and regal they were, so I pulled off to take a look. It was late September. The reserve was only a few miles off the highway. There was a turn off into a round-about where there were some bathrooms and a viewing platform. On the platform were mounted spotting scopes looking out at an expansive prairie that butted up against the mountains. Just in front of the platform is what I would later come to learn as a wallow.
I went up on the platform and saw only single bull standing 100 yards out grazing. The Tule, although smaller in size than the Rocky Mountain and Roosevelt elk, still held the same majesty. I sat for a while and watched him graze. Just as I had gotten up to leave the bull started to make his way in, so I waited. He sauntered up to wallow and stopped at the edge, jutted out his head and ripped what would be the first bugle I had ever heard. After which he proceeded to rake the mud with his antlers. Right then and there… I was hooked.
The following week I bought a $300 Diamond Infinite edge bow, took my hunter's safety course and acquired a wild boar tag which is valid all year round in California. I dove in and researched how to hunt boar. Now I had to find where. Los Angeles is not known for its hunting community. I was on my own. I spent the next 3 years trying to hunt deer and boar from Santa Barbara to Monterey without so much as seeing a boar or buck.
There were plenty of times I wanted to quit.
But I was obsessed with hunting elk. I'd sit for hours watching YouTube videos on hunting them and just listening to them bugle. I decided the only way this was ever going to happen was if I left L.A. At the time My girlfriend had gotten her licensure as a Marriage and family therapist. As an L.A. native she wanted out even more than me and so she applied for jobs in Idaho and Oregon. After months of interviews, she settled on a job in Bend, Oregon.
 I immediately picked up a job and hit the ground running. I was ecstatic about the openness of hunting talk and how many people hunted elk. What was even more exciting was their willingness to share spots and tips with me. I took the advice of many hunting blogs and put boots to the ground. I scouted every weekend. I'd go where my co-workers suggested and hike around for hours putting in anywhere from 3 to sometimes 12 miles. I was finding sign all over. I'd find tracks and droppings but never put eyes on an actual elk. So I decided to talk to a game biologist at the Oregon Department of Fish and Wildlife.
The game biologist told me there weren't a lot of big bulls in this area, and that if I wanted to increase my chances my best bet would be to go to the Wallowas up in the northeast corner of the state. According to him, it was flush with elk and the most remote wilderness in Oregon. I walked out of the ODFW committed to going on a solo mission since I still hadn't found a hunting partner.
Later that night I woke with a head full of anxiety. I was willing to hike in and go after a bull but what if I got one? How the hell would I get it out? What would the temperatures be like? How long would the meat last? Keep mind, up until this point I hadn't killed anything more than a squirrel. I started to panic and when I panic I do the only thing I can, I do more research. My job was pretty mind numbing and purposeless so I started listening to elk hunting podcasts, one of which was called "Elkbros." I liked "Elkbros" because they just seemed like down to earth, blue-collar guys with decades of hard-earned experience. On a whim, I emailed the show and asked just what in the hell I was going to do if I took a bull alone in the remote wilderness.
Joe Giglia, one of the hosts immediately emailed me back with questions about my hunt. Questions which revealed even more holes in my game. I answered the best I could, and he gave his advice, which can be heard on the September 3rd episode. The best piece of advice Joe gave me though was that I should first take a deer.
The season was two weeks out and I was a ball of nerves but still committed to my solo mission. Fate had finally intervened in my favor. I went to a work party with my girlfriend and met her boss. It just so happened he was a prolific whitetail hunter from Wisconsin who had been pursuing elk for the last two years here in Oregon, but with no success. What was even more exciting was that he was looking for a hunting partner, someone that was willing to put in the work. He was planning to take off more than half the month and go hard. Although I didn't know how much I'd be able to hunt with my job, I jumped at that chance. We started scouting right away and it was clear he was way more dialed in than me.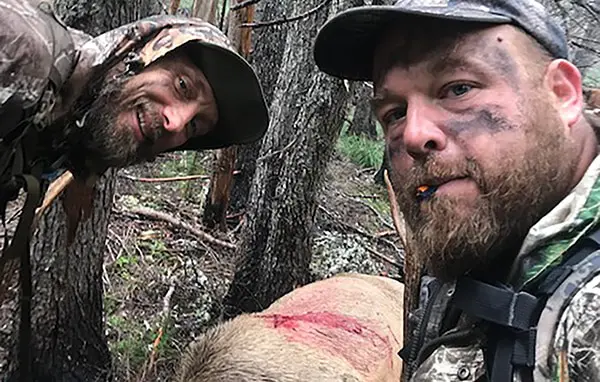 A week before the start of the archery deer and elk season fate intervened once again but this time not to my favor. I was called into my boss's office and was given my walking papers. I'd never been let go from a job before this, but I decided I wouldn't let it derail me from my goal of going after an elk. I decided to push all my chips in and bet on myself. The plan was to use the little savings I had to float me through the month so I could devote all my time to pursuing the animal I'd come to love and obsess over. What would I do in the end? I had no idea. But at the age of 48, I had given up doing things for money enough times to know that money never fulfills you as much as experience.
As we headed out for our first day of the season, I shared Joe's advice with my partner. We agreed to first have me hunt a deer and get some confidence and meat in the freezer. Then we'd put all our focus on hunting elk. And so, we set out to a spot my partner knew was always flush with Mule deer doe. Sure enough, about five days into the season I took my first big game animal. A 40-yard shot at first light. I was ecstatic. My partner filled his tag with a doe not long after.
We had three weeks to now to punch our elk tags.
We hit it hard, 8-10 miles a day and over 15 days total in the field. One of the things I learned from "Elkbros" was to have several options and so we had a variety of spots we scouted. Some were nearby for during the week hunts and some were more remote places where we could spend the weekends.
Every time we went out it seemed we were getting closer. We came across a herd in the dark and trailed them for a while up into the high timber but ultimately lost them. We came back the following week with a plan to cut the herd off on their way to feed. We executed our plan perfectly and just as we were about to crest a ridge a herd exploded from the other side. Madness ensued. At one point I thought I would have to hide behind a tree in fear of being trampled. There were at least 50 elk, a mix of calves, cows, spikes and one five by five which my partner got to stop with a cow call but couldn't get a shot off before he bolted again. As the last of the herd disappeared into the thick timber we heard more cracks of branches, but instead of more elk, we saw two young hunters who must have jumped the herd and thought they could run them down.
A few days after that I went after a rag horn and failed to see the herd of 12 elk standing ten yards to my blindside that my partner was putting the stalk on.
Each time the disappointment was palpable, but we pressed on. Things got intense when we successfully called in our first 5×5 bull.  We were set 30 yards apart thinking the bull would be coming from the left. He instead circled and popped up on top of my partner. It's worth mentioning that one of the things we credit the response to was that for the first time my partner incorporated raking into his calling sequence. The bull came in hot. My partner was forced to take an awkward shot from a kneeling position. The arrow struck further back on the bull's body. He took off running. The arrow passed through. On it, we found bile and blood. Gutshot. We covered 13 miles in 10 hours looking for that bull. The next day my partner came back with his hunting dog and tracked the bull another 8 miles to no avail. It was heartbreaking.
After two days off for reflection and recovery, we came back rejuvenated and ready. There were only four days left in the season. We put the past behind us and looked at it as a four-day elk season and decided to hit the spot where we'd seen the herd get jumped by the other hunters.
The morning of day one we hiked in a few miles and started calling and immediately got a guttural almost demonic response bugle. For whatever reason, the bull hung up. We chased him all over the side of that mountain. We'd call… he'd answer. We'd wait… then call and he'd be further away. We'd give chase and the sequence would begin again. Eventually, he went silent. Once the adrenaline wore off, we were dead tired and decided to return to camp. On the way back to camp for reasons I'll leave out so not to give up our spot, I named the bull "George."
That night we scored a serene lakeside campground, built a fire and talked about how we would do better. As the night came to a close, I looked to my partner and said… "Tomorrow we're going to get George."
We woke and headed in toward the same spot. The weather was sloppy. A steady drizzle and cold temperatures along with fatigue from the day before put a damper on our plans. Less than halfway to our destination and with no sign of George or so much as the faintest bugle… we folded in defeat. We decided to make our way back along in the timber at low elevation and call every so often. A half-hearted attempt but at least it was something.
As we descended the last of the mountain about a half-mile from the main trail my partner stopped to call. He stood upon a small rise of rocks overlooking a stand of timber shrouded in old man's beard. To the right was a deep draw of which we could not see the bottom. I continued down another 30 yards for no other reason other than all I had on my mind now was a warm fire.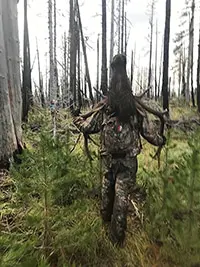 My partner let out the call. A few seconds passed when a deep growl broke into a blood-curdling angry bugle. There was no mistaking it.. It was George! I turned to my partner and said in a whisper: "He's right THERE!" pointing into the gully. My partner hurried up and ripped a bugle. George answered with an even more sinister bugle than before! He was ready for a fight. I set up for the shot. As I reached for my range finder a branch snapped 20 or so yards to my right. It was George. There was no time he was coming in broadside and within seconds would see me. I spotted a perfect shooting lane ahead and guessed it to be 30 yards. I knocked, drew back and just as I settled the pin in the lane, George stepped into frame and stopped. His body was massive. I avoided looking at his antlers. Advice from my father echoed in my head. "Don't get caught up looking at his antlers, just focus on that pie-plate sized area behind his front leg and let that arrow fly." With my heart jackhammering in my chest and a river of adrenaline flooding my veins. I triggered my release. My eyes followed the arrow as it made contact high on his back. George took off crashing through the trees. I was in a slightly elevated position and was instantly certain I'd gauged it wrong and missed his vitals.
There was no blood for the first 50 yards. Then we found a small spot. Then a broken arrow. The penetration was good, not all the way through but deep enough. Still, there wasn't much blood. Another 50 yards and another spot of blood but nothing to get excited over. The thought that I wounded George, the bull of a lifetime, began to sink in.
Throughout my life I had plenty of women break my heart, it was nothing compared to how I felt in the moment. A potent mix of failure, sadness, and anger weighed down every step I took searching for him.
I kept circling back to one of only two blood spots while my partner roamed off into the fray.
After a half-hour, my partner called out to me from the distance: " PJ I found some blood." It wasn't what I hoped but it was something. I rushed to where I heard his voice. As I came out of the timber and into the edge of a burn my partner came up to me and said three words I will remember for the rest of my life: "I found George." He stepped aside and there laying against some trees was George's hulking mass. Going from the lowest of lows to this unbelievable high made me light-headed. I had to stop and put my hands to my knees and breath as my eyes welled with tears of joy.
We'd managed to take a once in lifetime Roosevelt bull DIY in a spot with a 3% success rate. It was 11:32 am when we found him. It took us 5 hours to quarter him. With the help of friends, we packed him out and back to the truck by 11:49 pm. In total it took two trips and 12 miles. Never have I suffered so much and smiled so wide. To have such success and people willing to show up and shoulder the weight with you over miles of deadfall and trails is an experience I will be eternally grateful for.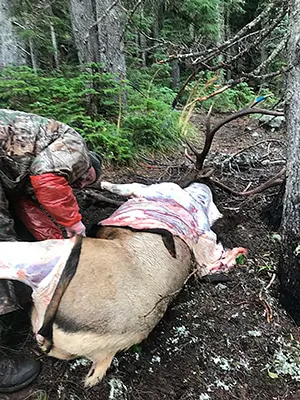 This was hands down the most profound experience of my life on so many levels. This hunt was the culmination of four years of hard work, developing relationships, countless hours of practice, scouting and developing my skills. And consuming hundreds of hours of content.
I learned a few valuable things from this successful hunt. One: never give up hope until you're back at the truck. Two: the hunting community is one of the best communities I know. Had it not been for people like Joe Giglia of Elkbros and others who gave their time and advice I would never have made that far. And three:  Although plenty of guys do it solo, elk hunting for me will always be a team sport.  Because as Chris McCandless of "Into the Wild" said… "Happiness is only real when shared."
None of this would have been possible were it not for my now close friend and hunting partner.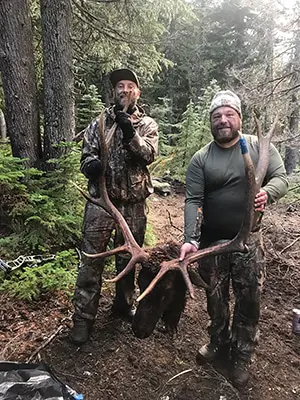 He took me under his wing and shared the knowledge and skills that he developed over the years. His ability to navigate the landscape and call this bull in was nothing short of amazing. Thank you, Andrew, I am forever grateful to you for giving me one of the greatest experiences of my life. The words "I found George…" will forever be etched in my mind.
Last but certainly not least… I have to thank my father for planting the seed early on in my life. It took the first 30 years to bloom, but I now have something that will nourish and fulfill me for the next 30.
And I should also note that during our time together my hunting partner offered me a job at his organization that specializes in wilderness therapy.
Because of hunting I have a new friend and partner, a community, the greatest moment of my life and now a job with purpose.
Thank you, George.
AUTHORS NOTE: This was the culmination of four years of hard work, developing relationships, countless hours of practice, scouting and developing my skills. Hours upon hours of podcasts and YouTube videos like @elkbros @meateater @elk101 @bornandraisedoutdoors @remiwarrenand reading: @stevenrinella "The complete guide to hunting, butchering and cooking wild game" @cameronhanes "Backcountry bowhunting" and @davidgoggins"Can't Hurt me" 
I have to give a special thanks to Joe Giglia from @elkbros who took time out of his life to give me advice and encouragement through email and phone calls that proved invaluable for me.