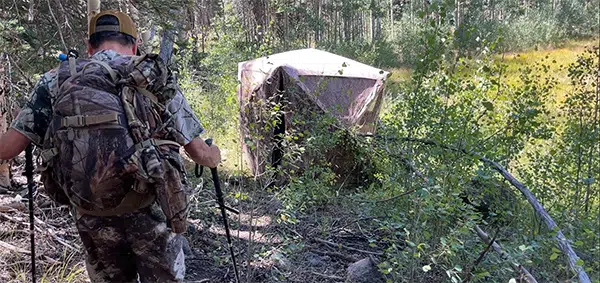 BY LEROY CHAVEZ
I never thought that I would ever hunt the majestic wapiti from a blind, but there I was during the 2021 Elk season overlooking a spring with several well-used wallows.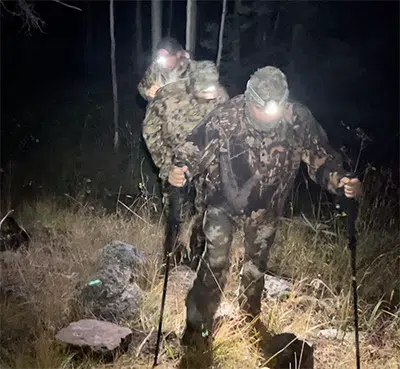 My rehabilitation from a bout with cancer and an impinged C10 vertebrae, in which I lost the ability to walk, is still a work in progress. I can walk, though robotic-like and sometimes unstable. Walking and hunting elk in the woods this past season would have been near impossible since I have to use two walking sticks (ski poles) and cannot carry my bow at the same time. That meant that the selection site for our first OTC Elk hunt in Colorado was a challenge, as the physical limitations of every camp crew member were taken into consideration.
Nonetheless, ElkBros veteran Joe Giglia decided on an area that would accommodate different levels of fitness, and of course, my physical limitations. Joe along with R.C. Knox and the Flatlander, Cole Wilks, came up with several viable options. They did a lot of e-scouting and made several trips to Colorado to put boots on the ground and look for signs. The work paid off and we had several promising OTC units to pick from.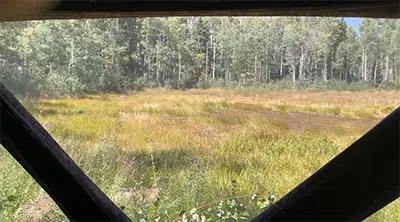 It was our second camp option that proved to be the winner as virtually every hunter on every outing encountered elk. A wallow only 300 yards from an old two-track road was selected as a site for my blind. Walking in was not difficult, but the return trip was tough due to a steep decline. The blind proved to be fruitful as I was blessed to see multiple bulls and cows and even a shot opportunity on a small bull.
This article is about my observations from Elk hunting from a blind.
Using a blind can prolong being able to hunt elk when not being able to walk, or when any other debilitating injury, limits your mobility and options.
While in the blind, during my 8-day hunt, I made the following observations:
It reinforced what I knew about elk behavior. A bull, with or without cows, will visit a wallow or water hole during the mid-day hours when temperatures are soaring at their highest. I observed this during this hunt and at various times in past hunts.

Elk, in this case, were not overly cautious about the blind when entering the wallow and surrounding area. However, a small buck approached very cautiously and kept his eye on the blind for well over 5 to 10 minutes before watering.
A bobcat also appeared, drank some water, then playfully pranced around for about 10 minutes before leaving.
Scent did not seem to be an issue as elk approached the blind from all sides, with some cows traveling behind the blind. Something did spook a FEW FEET from the blind behind me. Whatever the "animal" was, it got close up and personal. I was never able to identify the startled animal. The blind kept my scent down to a minimum since I was in the blind for at least 3 to 4 hours before any animal arrived.
During my days in the blind, I had about 20 elk come into the wallow. Three bulls appeared on different days between 12:30 and 3:30, with two bulls accompanied by 3 to 4 cows. One bull came in solo and played in the wallow for about 15 minutes. Several small groups of cows and calves came in between the hours of 5:30 to 7:00.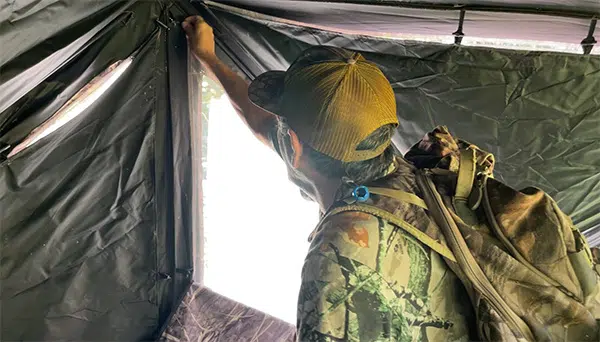 I feel that bull elk are active at night eating, chasing cows, and battling other bulls. I'm sure they also water at night, but drinking may be an afterthought, especially during the rut. High temperatures, bothersome insects, and thirst will becken bulls to water as temperatures soar during the daytime. Mid-day to mid-afternoon is a good time to water and wallow in the mud to keep insects off.
Meanwhile, cows and calves will water as soon as the shadows lengthen and twilight approaches.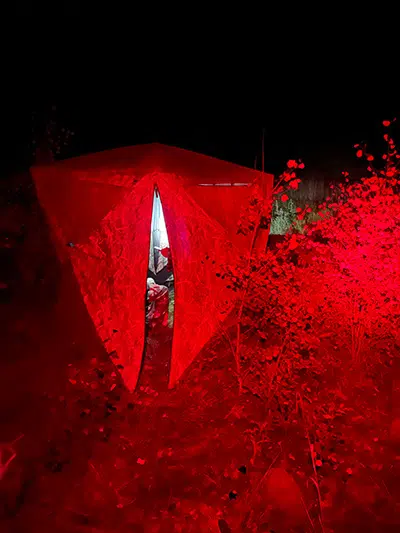 A lot of hunters are done with the "morning hunt" around 10:00 a.m. and head back to camp for lunch and rest. They then resume their afternoon hunt around 4ish. So most hunters are missing out on the middle-of-the-day period. That is when the bulls will head to the water and wallow unless they are already bedded close to water.
So my friends, if age, injury, or ill-timed mishaps hamper your ability to chase the majestic Wapiti in the mountains, perhaps hunting from a blind may be a solid option.