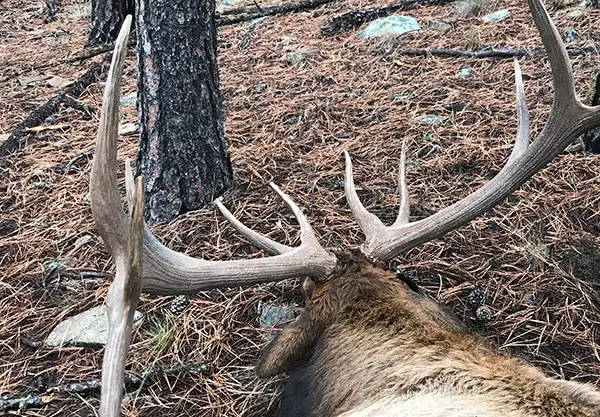 I have always wanted to go on a moose hunt with my bow. It is my bucket list hunt. It was my 50th birthday when my wife gave me the "Birthday Ticket" to follow my dream.
I began talking to buddies that wanted to go. Then I started looking at costs, logistics, gear, dates, time needed. The difficulties of the logistics mounted and became paralyzing. A couple of close friends that were interested passed away. Prices keep rising and the the dream that I once had is now 8 years old and I am no closer to checking off that item on my bucket list than I was eight years ago. Alaska and Canada seem like another world. Far, uninviting and beyond my means.
Why am I telling you this? Because so many hunters, that do not live in an Elk State, see an elk hunt in the west the same way. Their dream hunt. The costs, logistics, knowledge and skills needed, gear and time needed…. all can pile up and become paralyzing.
But I don't want you to make the same mistake I have. DON'T WAIT eight to ten years to experience something that SO CAN BE DONE! Because I have done it for almost 40 seasons and I did it on a budget with limited resources. The skill and knowledge? Well y'all, you have resources today that never existed. Sure, there is nothing like good ol' boots on the ground learning and experience, but I have a plan that can help you get that as well.
Just yesterday I was talking with one of our ElkBros Grinders out there that is planning and preparing for his first elk hunt in 2023. We were having a conversation about equipment, calling and preparation for a hunt that he and his group of friends are planning for the next 3 years. We are talking a major event here.
Over the phone I could hear his excitement and his determination to be ready for this group hunt. He had said that he listened to the advice about finding the closest state with elk and gaining some experience. Something that he wanted to do, but living in upstate New York presented a challenge.
That was when I decided to give Clint the same advice I would have given to my best friend, or even myself in his situation. I told Clint, that if he really wanted to make that trip in 2023 with his friends a great hunt, he needed to get his butt in the elk woods as soon as possible and not miss ANY season up until then. But to do it differently.
So, here is my advice to anyone wanting to gain elk hunting experience and cut through a ton of logistics, have a blast learning and not break the bank (about $1500 per person.. that means saving $30 a week for 50 weeks…$4.50 a day or 2 cups of convenience store coffee each day,) in the process….
Understand that this is assuming that you already have a hunting weapon and some hunting gear. Most of you will have WAY more than I did starting out.

Here is what you do:

1. Find a willing partner that wants to jump in with you. Don't do this alone the first time for a lot of reasons.
2. Goto Black Ovis.com and order: (free shipping.)
    Phelps Grey Amp (link)
    Rocky Mountain 3 pack Elk101 Signature Series.(link)
3. Go to Amazon
    Purchase the Carton Calls Mega Grunt tube ($21) Perfect for solo techniques. (link)
4. Purchase an OTC tag/license in one of these States:
(some are first come first serve once sales begin)
Colorado –  @ $800
Idaho – @ $600
Utah – @ $500
Oregon – @ $700 
5. Share the cost of gas. ( 2000 miles from Upstate NY to Salt Lake City…  about $300 per person..$600 total  (17 mpg at $2.50 a gallon)…less to Colorado)
6. Live off of water, bologna and peanut butter and jelly if you have to. Making homemade meals and freezing them are another great option to keep costs down.
7. Base camp in a tent. Borrow one if you don't have one. While you are at it…borrow all or most of the camping gear that you don't have. It's all just sitting in your cousin's or neighbor's garage anyway. Don't forget the (borrowed) coolers and a couple of packs to haul meat. 
8. Use your truck to drive from base camp to hunt different locations…1 to 3 miles in. (Spend $30 for the BaseMap Pro app (Link) and KNOW where you are while hunting in all 50 states for one price)
9. Just get in the elk woods around the equinox (Sept 22nd)
10. Go with the goal OF JUST GAINING EXPERIENCE. If you score, it's just the icing on the cake. But if you go with the goal gaining experience in mind, you will have a blast!
11. Didn't I tell you already to order those calls. What are you waiting for?!?!
Get them, buy Paul Medel's ElkNut App ($10). (link) Listen, learn, practice over and over again. Calling is how you will create your opportunities and it is a BLAST!!!!!

I totally understand that $1500 is nothing to scoff at. But it is VERY doable and nowhere near the $6000 to $16,000 being charged by outfitters, without even considering your travel. The closer you live to an elk state, the less your travel costs and time on the road.

So in reality, your bucket list hunt is way more feasible than thought. So, if this has been your dream, take it from me, do it while there are still way more seasons in the windshield than in the rear view mirror.
Keep your broadheads sharp and your powder dry!