Lack of energy due to keeping yourself fueled and hydrated properly during your elk hunt can easily become one of those failure points that we talk so much about, impairing or limiting your opportunities to succeed in the field.
The Hydration should be an easy, when you feel thirsty…drink! And be sure to have enough water for your day. The great thing about the weight from water is that it gets lighter throughout the day as you drink.
To stay fueled while hunting elk, everyone loves to have a great trail mix to fight off those hunger pains and keep the body going. Same here at ElkBros. So, we thought we would share a great granola trail mix that is not only delicious, but it's easy on the pocketbook too. Generally, any kind of granola trail mix is going to cost you anywhere from $6 to $12 a pound. Well y'all, here is an incredible mix that is going to set you back just under $3 a pound. Our recipe will prepare approximately 8 pounds of mix, divided evenly between two different flavors. So here you go y'all, the recipe for our …. wait for it….

GRINDERS GRANOLA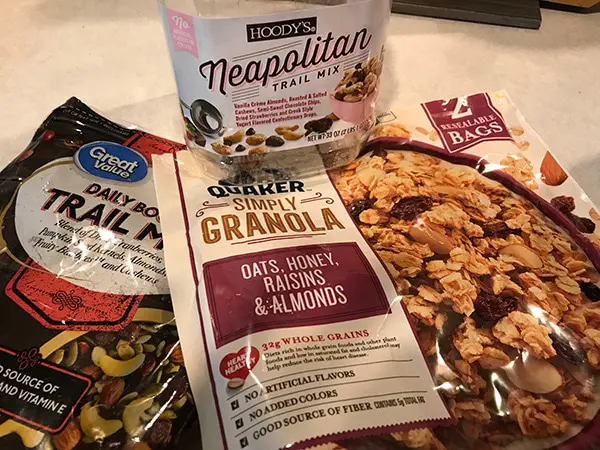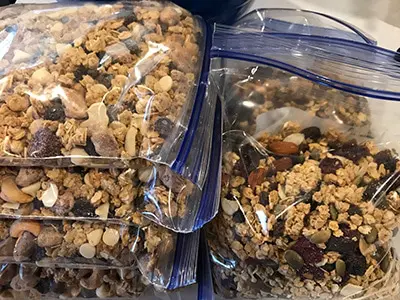 Ingredients (makes approximately 8lbs):
– From Costco (If you don't have a membership, just ask a neighbor, uncle, friend or parole officer 😉 )
> 2 Pack of Quaker Simply Granola (4.4lbs $8.49)
> 1 container of Hoody's Neapolitan Trail Mix (2.1lbs $6.97)
– From Walmart (If you have been banned from the store,….well, you know 😉 )
> 1 bag of any of the Great Value Trail Mixes. I used the Daily Boost (1.6lbs $6.98)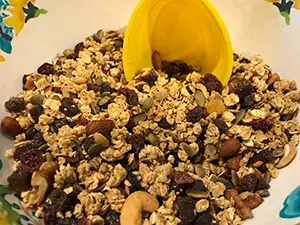 Directions (Pay close attention..this is REALLYhard!):
– In a LARGE mixing bowl, mix one 2.2lbs bag of Quaker Granola with 1 bag/container of either the Hoody's or the Great Value trail mix.
– Open 4 one-quart zip lock backs and fill each evenly. Zip up and you are good to go.
– Using the remaining Quaker Granola and the other remaining trail mix…repeat.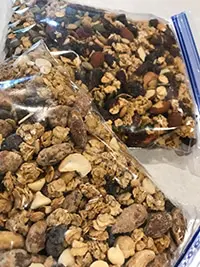 There you go! If you don't believe how delicious this is, just try some. Daggum good huh??
Good luck y'all and stay nourished!