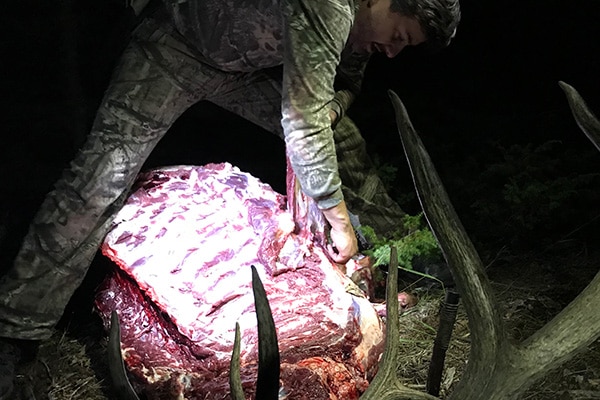 Getting a job done right often comes down to having the right tools and being prepared. For us as elk hunters, having a compact yet complete "Kill Kit" can help in so many ways. Having the right tools for the job. Making the job efficient, clean and safe. Keeping the meat clean and as free from dirt and bacteria as possible while getting it off the carcass and cooled down.
ElkBros Grinder, Paul Snowaert from Wyoming MN, is always up to share some of his common sense hunting tips and contribute to help others with his knowledge and know-how.
The following is a compact and well thought out kill kit that Paul uses and is sharing with those looking to prep for the upcoming season.
As you can see from the picture below, Paul's kit is less than 10 inches in length and about 7 inches wide. An easy fit at the bottom of any daypack or back pack.
We list the components of Paul's kit below in the next picture. We would like to note that there are many options for Replaceable blade knives out there that you might prefer other than the one shown, or you might not prefer one at all. But if you do go with another replaceable blade, make sure that you have a tool to safely remove blades without injury. A deep cut far back in the elk woods can become an emergency situation that you definitely want to avoid.
We also like to add two more small Ziplocs to our kill kit for trash and used knives so blood doesn't get all over everything in our pack and yet the blood stays moist in the sealed bag for easy clean up back at camp. Some hunters prefer to carry fold-up knives and a small flat bladed screwdriver to work the fur around the burrs. Use what does the job best for you, but always remember safety. Paul uses a solid knife so he doesn't have to worry about hitting the release on a fold-up while working a burr with a lot of pressure and possibly collapsing the blade on his own hand or fingers.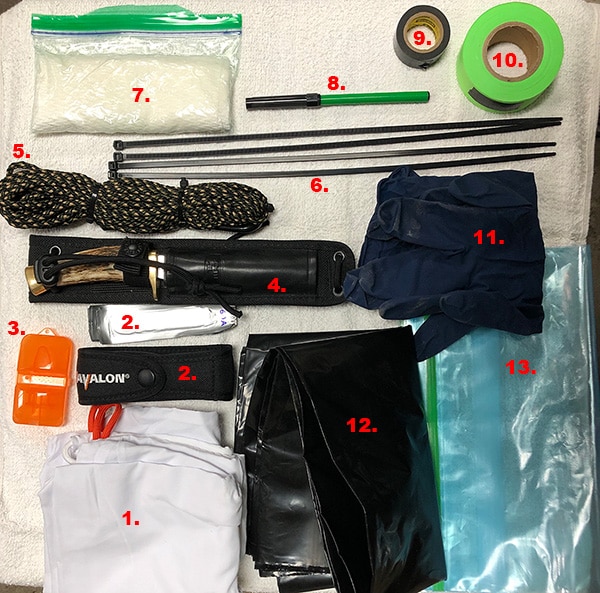 Paul's Kit Contents:
1. Game Bags
2. Replaceable blade knife w/extra blades
3. Extraction tool for blades
4. Solid knife (for working around skull)
5. 50' rope or parachute cord
6. 4 zip ties
7. 4 paper towels folded in snack size Ziploc w/6 pumps of hand sanitizer (knead thoroughly) for clean-up
8. Pen
9. Electrical tape
10. Marking tape
11. Nitrile gloves
12. 55 gallon contractor garbage bag( used to place under legs and game bags to prevent dirt)
13. 1 gallon Ziploc bag to keep contents dry and manageable( and to also place marking tape and other garbage after completing work)