Story by Dylan Smith.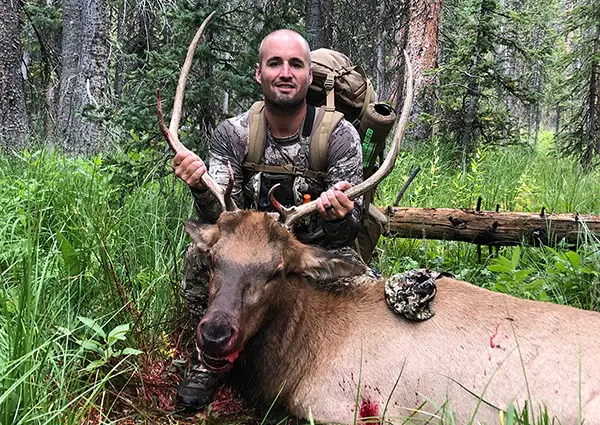 Hey guys, I contacted you all earlier in the summer regarding ground scent comparing elk to whitetails. I just wanted to let you know we had a great trip out on OTC elk in CO. We were successful in meeting our goal of getting my buddy his first bull.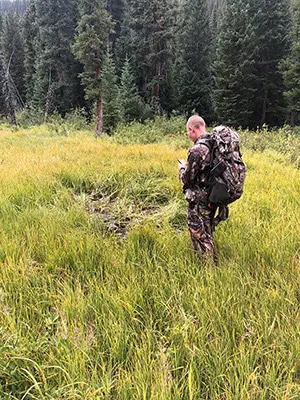 While I was caller on the day of the success, I knew I called something in from behind me silently, but it had walked off. It did that twice and I knew it was within bow range but we were in an optimal thick setup. We reconvened and I told them they should setup back near a creek crossing that I figured had to be close to where that animal was. I wasn't sure if it was a bull/cow, whatever, but I thought there was a chance if we adjusted that I could call it back to that same area a third time. I may not have attempted that except I had heard that strategy on your podcasts as well as from Elknut, Paul Medel.
Anyway, I knew it was worth a shot and low and behold it worked to perfection and Ryan shot that bull at 11 yards and he didn't go 40 from that spot. It was funny because I had all but given up as the caller and moved further over the rise and did some mews as I walked away and the next thing I hear is Ryan's nervous grunt. I was like, "What the heck" and went back to find out what had happened and could instantly tell by the look on Ryan's face that he had gotten it done. I knew we were in bonus land at that point and the trip was a success.
It was an absolute grind and a grueling pack out over 7 miles through deadfall, etc., but I would do it all over tomorrow. We also got great footage that will last a lifetime. That happened on day 2, so I was determined to push through the pain and get back to hunting once meat care was complete. That to me is half of the fun, but either way, it ended up being about a days worth of meat care by the time we got back to camp at 2 a.m. and then I was up at 4 trying to make the trek back in. I was still an hour behind the elk. Lol!

It is truly a mental grind but I love every minute of it. I was able to get back in and on the herd bull but a few different attempts that week just came up short. I felt like I was in his lair, but would love to have a few encounters back. I also made a decision I regret. I left some unbelievable fresh sign due to where it was located and I felt that we would never physically be able to get an elk out of those areas due to the terrain to get into. Looking back, I feel that was a bad decision and that would be a great problem to have, but I should have worried about that when it was an issue.
That's hunting. I've mentioned that I am a huge whitetail hunter, but it's crazy how much you all got me addicted to the adventure and the challenge and my whitetail prep is further behind than ever. Don't get me wrong, I'm still putting in the work, but the passion for elk is at an all-time high.
Getting back and continuing to listen to your podcasts have been bitter sweet. It keeps me going, but is almost like a hangover and it makes me more than determined to get back and give it my all again. I love everything about the preparation and feel I have advanced as a hunter and the learning curve, although steep, has been reduced.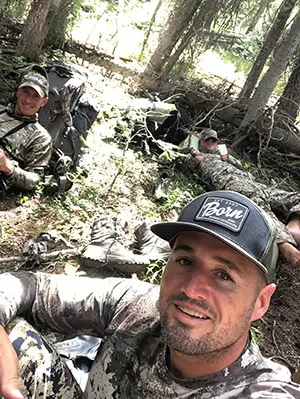 I appreciate all that you do to share the camaraderie of your group and the stories that go along with it. You truly have something special and it has been fun building a team to "ride the river" with. Thanks again for what you bring to all of us soaking it up. I can't wait to see the videos and future podcasts from your recent adventures. I love the way you share the truth about obstacles and struggles of each adventure.

Dylan Smith
St. Marys, Kansas