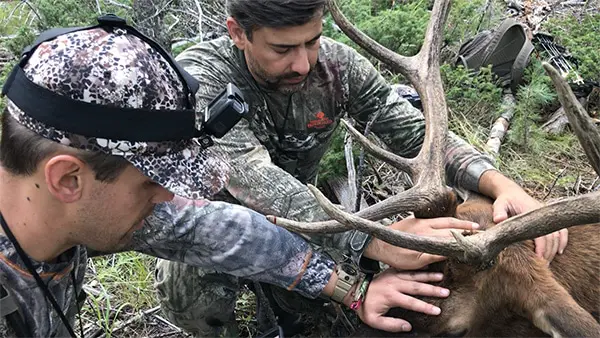 How we respond, how we internalize, how each of us as hunters pay tribute to an animal's life that we have taken in the honor of the hunt, is something that each of us will do in our own way. In our own time and within our own hearts.
Paying honor to an animal and giving thanks can take many forms. A way to slow down and take in the moment. To some it may be a tribute, a ritual or a prayer. Words spoken or unspoken. An action shared or not shared. Seen or unseen.
To each of us, handling that final moment is something that is personal and not always something that we could even explain. It is, and should be, a profound moment.
You may already have a tradition passed down to you through family, friends or your culture. So please know that we totally get that and what we are about to share is not in any way our expectation of you. It is not our expectation of anyone.
But for those of you that have entered into this whole hunting experience on your own, without a mentor or family members to guide you, you may feel there is something missing. If you are looking to start your own tradition or are interested in teaching your own family members, your own children, how to pay tribute but you just haven't found the right words, we would like to share a Hunter's Prayer with you. Some words that we have put together that you can feel free to use or change to best fit your your message, your need or your culture.
The whole idea is simply to honor the animal, the hunt, the reason and to show thanks to God, however you worship. It is a way to slow down the moment, to take it all in and pay respect. With that said, we would like to share with you…..
A Hunters Prayer
Thank you majestic one for the honorable hunt.
My family and friends shall honor your sacrifice by feeding from your meat.
The memory of your last day will forever be a part of me.
May your spirit be embraced by the creator, knowing that you have served your purpose, fulfilled your destiny.
Thank you Lord for sharing your incredible nature and creatures.
Grant me always, wisdom and respect in the pursuit and keep me humble in the harvest.
Please embrace this animals spirit.
Please bless this gift of meat for my family and friends.
Please keep this memory with me forever so every time I remember this hunt, this animal is honored.
Amen