Sometimes the best laid plans of mice and men can go awry despite planning for seemingly every situation for an elk hunt.
After 30+ years of hunting elk, I will share some crazy stuff that I encountered during my time chasing wapiti in the mountains of Northern New Mexico.
During that time I have harvested 16 elk, while my partner tagged an amazing 33 elk in 35 years. Needless to say my partner, Joe Giglia is an expert caller and called in most of the elk that I shot.
While we pay attention to detail, sometimes pure common sense and the need to double check your equipment will be the difference between success and failure.
Check your nocks
In my fifth year of hunting back in the eighties, I was hunting a drainage that was covered with high grass. The finger was a mile long and 400 yards across and bordered by two steep walls that tapered into thicker cover.
I thought I heard a bugle on top of one of the canyon walls and moved in that direction. The steep grade was covered with downed timber and thick brush, but I noticed a game trail zig-zagging to the top. I slowly worked my way up, when I spotted some movement above and ahead. A nice 6×6 was heading down on the same trail.
I got off the trail and positioned myself with shooting lanes in front me. The elk would zig-zag down the trail affording me three possible opportunities. I nocked one of my brand new XX75 arrows and waited for an opportunity. When his head went behind a bush, I drew back only to hear my arrow drop and ding my bow. In panic mode, I noticed that nock was still on the string, took it off, then replaced the arrow with a new one.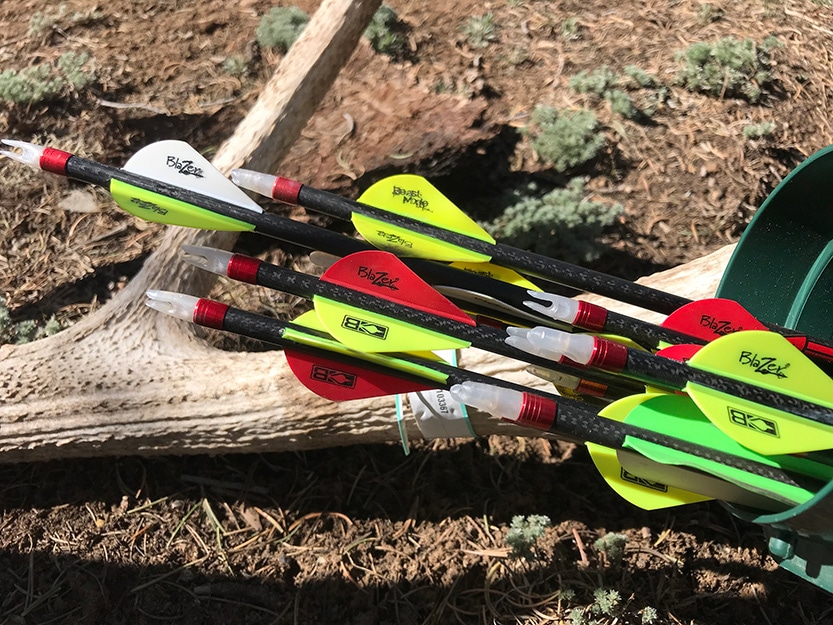 Astonishingly, the bull never missed a beat and made the turn, giving me opportunity number two. As I drew back I felt the nock detach from the arrow AGAIN. I shoot with fingers, so I was pinching the nocks and obviously the nocks were not sufficiently attached to the arrow.
Believe it or not, the elk continued and when nock number three came off, I was close enough to stab a very surprised bull, that seemed to slide on glass as he scampered away.
I now make sure my nocks are on tight when I place them where I need them to be. I also practice with new equipment before heading to the hills.
In 1992, my wife presented me with a one piece camo outfit that had a nice pattern that would mesh well with the terrain we hunt in.
Practical camo
I make it a point to put on my backpack with 25-30lbs to emulate hunting conditions, however I never thought of putting on my new camo to shoot.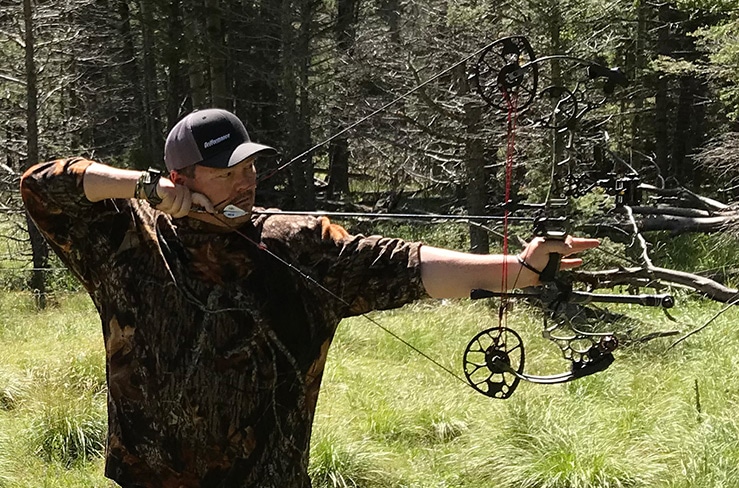 Sure enough on a cool September morning, Joe and I encountered an unsuspecting bachelor group of bulls and stalked close enough to take our pick. Joe connected on a nice 6×6, while I drew, or should I say, tried to draw on another 6×6.
Because I was kneeling, my one piece outfit was very tight and very unforgiving to say the least. I could not draw back!
I never use one piece outfits anymore.
Mechanical broad heads versus fixed blades
On our 2016 hunt, Gilbert "Big O" Ornelas screamed out a bugle then added a few cow calls as we slowly worked our way up a steep mountain trail. The 10,000 foot altitude was starting to wear on us when we heard a bugle higher up on the mountain.
In an instant, our energy seemed to return. I told Gilbert to give a monster bugle and it reverberated throughout the mountain. It was immediately returned by a bull that seemed to be heading in our direction.
We quickly set up on a hillside bench. I knelt by a trail that was blocked by a large downed aspen, while Gilbert set up behind me on a little hill and in front of a large evergreen. I gave Gilbert the signal for a monster bugle and he delivered and added some cow calls to boot. The response was immediate and close, VERY close.
I knelt, nocked an arrow and positioned myself ready for a shot. Just as I finished a huge 6×6 trotted into view and was following the trail I was on. He came in bellowing and ready to fight. Seeing the downed aspen he stopped then turned broadside at 15 yards and I drew back.
Gilbert bugled again and I shot. In slow motion mode I visualized the arrow hitting a grass stem and missing. The bull ran 25 yards to my left and stood bewildered.
I turned to Gilbert and said, "I missed!"
"No you didn't, look at the bull," said Gilbert.
I could see an arrow hanging down on the elk in the heart/lung area, in what should have been a lethal hit. The bull remained in the area when Gilbert bugled again and another bull with cows also appeared from below. The wounded bull, bugled himself like nothing happened, then he finally scampered away.
We found the arrow which told the story. One blade opened up prematurely and killed the kinetic energy as the arrow only barely penetrated past his thick hide.
Gilbert and I literally tracked single pin-prick blood drops for the next two hours. The elk walked straight up the mountain which rose to 11,000 feet. After a more than fair chase, we let him walk away.
It took us over two hours to hike down the mountain.
I haven't used mechanical blades since then.
Dietary concerns
On our 2014 hunt, I waited until the actual hunt to try a new protein bar that contains all my favorites—almonds, peanuts, assorted berries, chocolate and more.
On the second day, we had a 4:30 a.m. wake-up call and walked out of camp in the dark at 5:00. A mile into our trek, my stomach growled loud enough to challenge the owls. The constant growling persisted and continued for the first three days of the hunt. If that wasn't bad enough, instead of looking for elk, I spend most of my time looking for downed aspen trees to serve as my commode. Other times I simply walked to a tree, dropped my drawers and emptied the protein bars and anything else that wanted out. It wasn't pretty.
Needless to say, now I start eating trail mix and other camp foods well before the hunt. I would suggest you do that too.
I'm sure my memory banks will remind me of other adventures or misadventures that I can share with you, that hopefully will help you avoid the same pitfalls when you venture out on your next elk hunt.