With daylight quickly approaching, Gilbert (Big O) Ornelas fastened his bow case on top of mine on the front of the 4-wheeler. On this, the second day of the hunt, our other three camp mates (Joe Giglia, Luis Gonzales and Steve Tucker) had left an hour earlier on a slower moving mule.
Our entire camp would travel to the lower lands where acorns were in an abundant supply. The crop was so numerous, that on a warm day, you could hardly lay a foot down without crunching dozens at a time. In some areas, fallen acorns carpeted the ground and the acorns on the trees resembled grapes. Acorns were everywhere.
As we left camp and travelled down the rocky road, one that resembled an old dried up stream, we passed dozens of four-wheelers heading up to the alpine highlands.
We pause a few times to stretch our bodies, that took a beating from the rough ride, and to put on some rain gear as raindrops started to pelt us. The rain would help stifle the crunching noise that the acorn carpet was sure to make.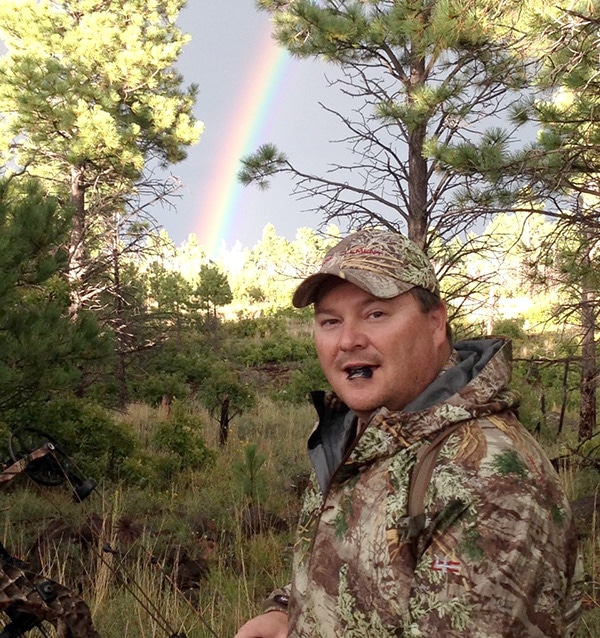 The rain stopped and mother nature treated us to a wondrous rainbow, which Gilbert's phone captured in all its glory.
We parked the ride, and started moving through an acorn field, heading to a draw that would lead us up the ridge to a point where we encountered a bull from the previous night. We had heard the bull as darkness descended upon us so we scurried out hoping to come back today and find that same bull.
Gilbert screamed out a bugle, followed by a series of cow calls, but nothing replied in kind. We continued moving slowly through the dense acorn field which afforded us a limited sight line. The acorn field would occasionally open up to narrow open fields surrounded by the ever present oak brush.
After a "Big O" bugle and cow calls, a distant bugle in front of us, revved up the adrenaline and we crunched our way in that direction. Gilbert bugled again and was quickly answered. We decided to set up to try to lure the bull in.
With Gilbert in front, and with me behind and in front of a large oak tree, we set up and used a variety of bugles and cow calls. The bull continues to bugle, then another bull chimed in, then another. Suddenly we hear cow calls, we were within 300 yards of a large herd with several bulls in the same area.
The elk were not coming to us—so we decide to make things happen. With a favorable wind, we advance quickly within the dense cover, provided by the oak brush and trees.
We close the gap and now we have to be on high alert. I know If "Big O" is within 60 yards with an opening, something is going down. As we cross a small opening to get below the herd, we see several cows cross an open gap above us. Gilbert settles down to my left in an opening and waits for the trailing bull. Meanwhile bugles abound in front of us from left to right.
I spot a large and wide set of antlers to my right moving above the oak brush, trailing the cows. He will be in GIlbert's line of visions in seconds. As I turn to let him know, "Big O" draws and fires at something that is out of my line of vision.
His bow is so quiet that nothing spooks and seconds later the big 6 X 6 that's trailing the cows, nonchalantly moves across Gilbert's line of vision now at about 30 yards.
I rush over to Gilbert's side and before I get to ask, "what's the story?", we spot several other bulls leisurely moving about.
He tells me he hit a thick antlered bull a little over 60 yards. Though he had to thread the needle through a small window, he believed it to be a good hit.
The bulls continue to bugle, so I move up to an opening and can see a bull heading in our direction when Gilbert suddenly cow calls. The bull is on a direct path to walk right over me, but at the last second veers to the left giving me a 20 yard shot. I draw back and fire.
WHACK! The bull stops at 20 yards, looks at me and I look down at my bow and see my arrow on my lap. I quickly pick up the arrow and fire at the stunned bull and my arrow flies erratically under the bull. Needless to say, he blows out.
Bewildered, I walk up to Gilbert very confused and tell him I miss-fired twice at 20 yards. He looks at my bow and notices that the slider had broken off, basically rendering my bow useless.
We go back to where Gilbert took the shot and place an arrow with red ribbon, then walk up to the point where he thinks he hit the bull.
After looking around for a few minutes, we find blood—good blood and plenty of it. Definitely a double lung shot. After an impromptu celebration, we walk off the distance……69 yards uphill. The bull was feeding on acorns that were still on the tree and never knew what hit him.
Though the blood trail was good, we decided to wait the prerequisite 60 minutes before we tried to track him. The whole time, bugles continued up the hill above us.
After a long, LONG 60 minutes, we went to the spot we had found earlier, placed a ribbon, then started to follow the blood. Ten paces later Gilbert spots a huge bull lying against an acorn tree. At first sight it appears to be a big 6X6, but turns out be a massive 6×5. The body is huge and the antlers are simply massive, coke-can thick all the way up to the sword. Eventually he measures out to a score of 346. He took about 10 short steps, then expired. Double lung….perfect.
His body is so enormous, I can't even put my arms around his neck, which alone produces over 120 lbs of meat deboned.
Now the work begins and it proves to be an impossible task just to move the neck. As we ponder as to where or how to start, a most welcome sight appears. Our campmates arrive on the scene. Needless to say, 5 people working on the elk made it 1000 times easier.
When all is said and done, it appears we came up upon a bachelor group of bulls that was joined by a herd. Our camp mates had been chasing the herd, that's why we came together in the end.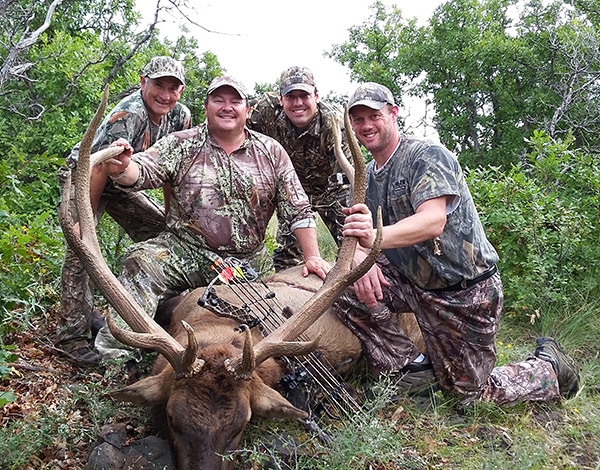 The ultimate success can be attributed to the fact that we had done our homework and decided that the elk would be where their favorite food source was.
When all was said and done, Joe also scored a nice bull in the same area and the rest of us had opportunities (shots)—–and in this game, that's what it's all about… opportunity.