Blackie (our jet black 1987 Nissan 4WD pick-up) was packed to the hilt as Joe and I prepared to go back home empty handed, after an exhaustive five day hunt, in which opportunity did not present itself. It was our last day in God's country. Tomorrow we would both be back in a classroom at Cimarron High School working to mold young minds.
The 1998 hunt was a tough one as the monsoons dried up early and conditions were downright hot. The acorn crop was almost non existence and just walking around was a crunchy situation.
The packing of the truck is always an art form for Joe and he made sure the bows and coolers were accessible just in case we happened on something on our last morning hunt. We planned to hunt the morning and then head home.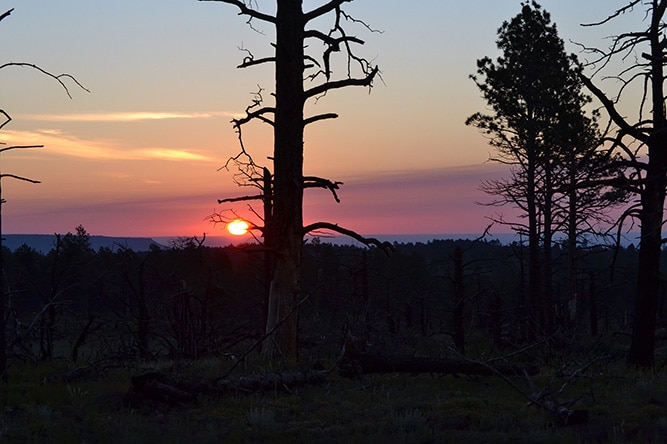 Blackie rattled down the two track road that was littered with volcanic rock and surrounded by an oak brush jungle. We drove into a random opening and parked. To most people it was a nondescript area in which everything looked alike. To us, however, the location was a ½ mile walk to what we call "Hidden Park".
The walk is anything but easy, as you have to work your way up and around sharp volcanic rock, that is randomly strewn about and intermingled in the oak brush jungle. We locate a trail that once bordered a spring that is now dry. The trail opens up and drops into Hidden Park. The dog-leg park is grass covered, about 200 yards long and sixty yards wide. On a topographical map it barely makes an impression.
We were here earlier in the week and found no sign, but this time we find droppings that appear to be fresh. Joe lets out his signature bugle and adds some cow calls. I don't hear anything, but Joe points south toward the oak jungle and notes,"cow call!"
As you will learn later, we hunt aggressively plus the fact that it is our last day, we waste no time and quickly move to close the gap. 300 yards later, you can clearly hear cow mews. Joe turns around and places his open hand, fingers spread to indicate he spotted a bull—-then takes off.
I follow for a while then lose him in the dense oak brush. I veer off course when I hear cow calls to my left. To my right Joe bugles and immediately gets an angered response.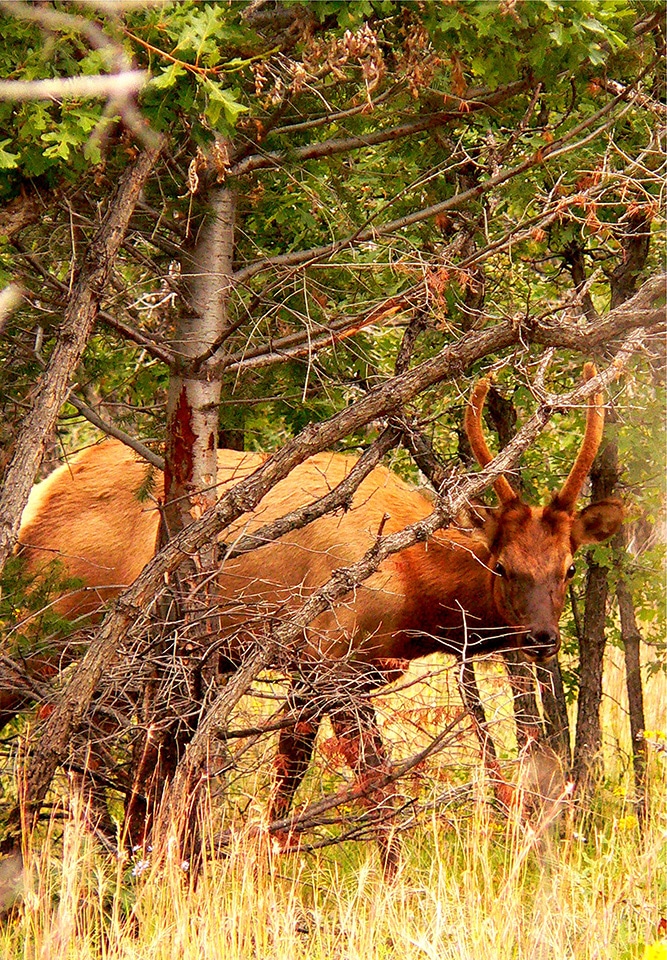 Movement in front of me now gets my full attention, as I drop into shooting position on my knees, and nock an arrow. Several cows are feeding in front of me and two good sized spikes are frolicking beside them.
In the meantime, to my right, I can hear an assortment of bugles and cow calls. Elk seem to be everywhere.
One of the spikes decides to leave the group and steps in front of me at 20 paces. In what seemed like one motion, I draw and fire. The spike buckled then ran. Seconds later I hear him drop, shuffle a little then silence. The other elk in front of me clamor away, but the incessant bugling and cow calls to my right continue.
The hit was a double lung pass thru and the spike traveled 25 yards. With the aid of rope that I had in my fanny pack, I was able to quarter the spike. Meantime the bugling to my right continued for a while longer.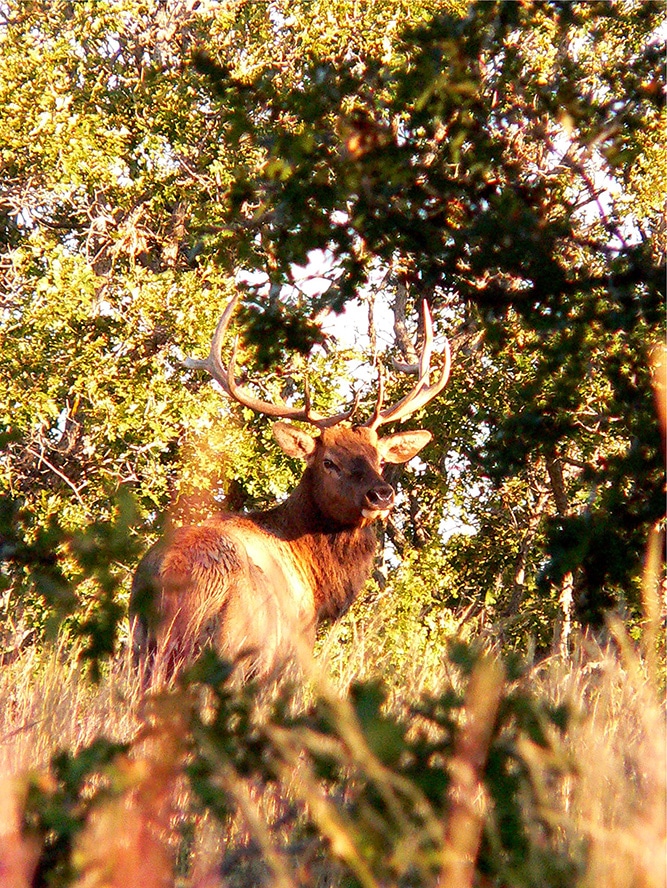 Oh, and about the incessant bugling, apparently Joe connected on a 6×6, then continued to bugle and cow call to get my attention. As he bugled and bugled, dozens of satellite bulls and numerous cows came and went. It was crazy.
We finally hook up and after the congratulatory hugs and fist bumps, we realized the magnitude of the task that lay ahead.
The truck was ½ mile away and it took us five round trips to get the two elk in the truck. Joe carried four hind quarters and a 6X6 rack, while I carried four front quarter and two back straps over the volcanic landscape. What started out as a morning hunt, finally ended with the last of our elk loaded in the truck at 6pm.
It had started to rain about the 3rd trip, so we were soaked, beat up, exhausted and two of the happiest hunters on the mountain.
Needless to say, in the classroom, the next day Joe and I were pretty much comatose.
So despite the bleak and bad conditions, just remember the hunt is never over until the fat lady sings.You never know when your luck can change and you have to take what mother nature gives you.
Joe also learned a big lesson that day which forever changed how we hunt and has enabled us to have a lot of success in the future. In what was meant to be constant calls to get me to come to him, Joe had several elk come to him instead.
Something to keep in the playbook for another day.